2014 Agfa Jeti UV Printer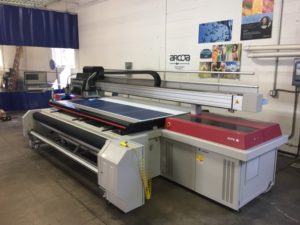 $45,500.00
This 2014 high quality UV ink jet printer is one of the best on the market. New printers cost over $200K. Professionally de-installed by AGFA on 10/10/2017 this machine was in production up to de-install printing the highest quality prints made today. This printer has the white ink option and the front roller option for continuous long run prints. Please call before you bid as there will be additional costs for full crating.
Jeti 1224 UV HDC (HDC = High Definition Color) inkjet printer features the widest colour gamut and highest productivity in its class, demonstrating high definition, sharp fine text and photographic detail with bright intense colors.
Built on a solid steel platform, designed for three shift operations, the :Jeti 1224 UV HDC features a unique, linear motor driven vacuum bed for highly accurate dot placement in both flat bed mode or with the optional roll-to-roll (RTR) feature. The flatbed architecture can print on anything that is reasonably flat up to five cm thick and with its industrial grade construction can support media rolls up to 110 kg.
Contact Us
Feel free to contact us if you have any questions.