Kodak Trendsetter 3244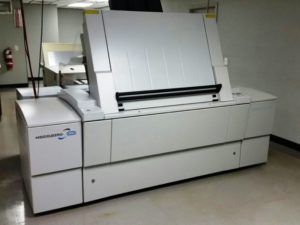 $18,500.00
Kodak/Creo/Heidelberg Trendsetter 3244 Auto-loader/New Laser
Kodak/Creo/Heidelberg Trendsetter auto loader 3244 20 watt (F speed) thermal platesetter in excellent condition. This machine was always under a Kodak service agreement with a brand new Kodak laser installed the end of 2016.
This machine was professionally de-installed and will include the Kodak tiff catcher. This Trendsetter will image on any thermal processless plate. It has been upgraded to F speed(fast) and will image 12″ – 44″ thermal plates. Skidding-crating extra.
Contact Us
Feel free to contact us if you have any questions.