2012 OCE' Arizona 550 XT wide Format inkjet printer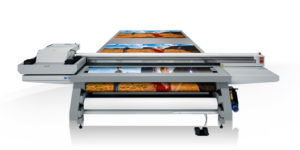 $29,500.
2012 OCE' Arizona 550 XT Wide Format Inkjet Printer W/ front roll option
Océ NV has extended its series of wide-format printers. The launch of the high-speed Océ Arizona 550 XT flatbed printer at the FESPA trade show in Munich builds on the success of the Océ Arizona 550 GT system introduced in February 2010. By doubling the size of the flatbed, the Océ Arizona 550 XT offers customers the best value in the market for high-quality, large format rigid graphics production. High capacity print providers can now produce high quality display graphics on the largest rigid boards their customers need, at even lower costs.
With nearly 2,000 printers to date, the Océ Arizona Series of UV flatbed printers is the world's number one selling product family, outselling all competitors combined. The robust industrial design of the Océ Arizona 550 XT makes it the fastest yet. It prints approximately twice as fast as the Océ Arizona 350 GT printer, and three times as fast when printing banner and outdoor work. Most importantly, the image quality of the Océ Arizona 550 XT is superior to all competitive systems. development was largely attributable to the popularity of the Océ Arizona Series, designed using an efficient cost engineering approach and affordable—by as much as 30 to 40 percent—than comparable competitive systems.
Contact Us
Feel free to contact us if you have any questions.