2019 Fluid Color HT 2500 UV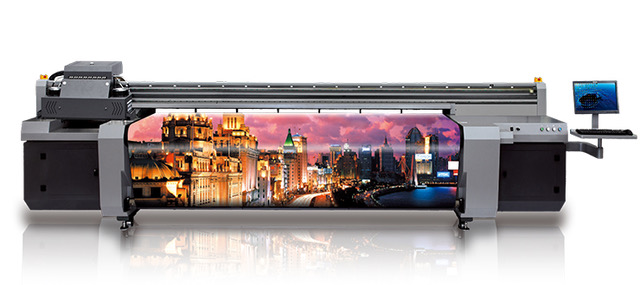 $40,000.
Printhead: Ricoh Gen5Kyocera KJ4A
Quantity of printheads: 4-8 pcs(Double rows)3-4 pcs(Single row)
Resolution: 1200*1200 dpi
Print speed: Draf
Production Quality:
48㎡ /h55㎡ /h
33㎡ /h38 ㎡/h
23㎡ /h26 ㎡/h
Print mode: Unidirectional and bidirectional
Max width: 2.5m
Max media thickness: 50mm
Media type: Rigid and flexible flat materials
Ink: Environmental friendly UV/LED curable ink(VOC free)
Ink color: C、M、Y、K、Lc、Lm、V、W
Image format: Adobe Postscript Level3、PDF、JPEG、TIFF、EPS、AI
Machine size(L*W*H): 5.49*1.15*1.38M
Machine net weight: 1280KG
Machine gross weight: 1875KG
Power consumption: 8.0KW(20A)
Power supply: 400VAC. 50Hz 3P/N/PE
Certification: CE, FCC
RIP support: Caldera, Onyx
UV Curing: Mercury vapor UV lamps, LED(optional)
Interface: High Speed PCIE
Environment: Seperated workroom in good cleaning and ventilated condition, avoid direct sunlight
Temperature: 18˚ C – 30˚ C(64˚F-86˚F)
Constant Humidity: 30%-70%
Several systems available: Please call 973-208-1981
We buy/sell/trade Platesetters and large format Inkjet Printers. We take trade-ins!