National Iparts: Platesetter/CTP Machine Parts
National Prepress iparts is your supplier for CTP prepress parts. We carry lasers and spare parts for Screen, Creo/Kodak, Agfa, and Fuji platesetters.
Contact us with the manufacturer and model of your platesetter and we'll provide you with the part(s) you need. With over 25 years in the prepress equipment business we have the valuable expertise needed to get the part you need and fast.
Prepress Parts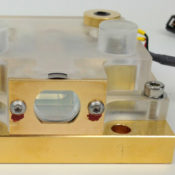 Kodak 20w Laser Replacement, New