WE BUY-SELL-TRADE
CTP's: Agfa, Screen, Fuji Kodak
Large Format FLATBED/ROLL to ROLL Commercial UV Printers: Roland, Agfa, OCE', Fuji, EFI, Rastek/Vutek, Epson
We Sell All Printer Parts including Replacement Print Heads
New Wide Format Printers and Platesetters for Sale!
Our Inventory
At National Prepress, Inc. Our goal is to offer you the finest EQUIPMENT/SERVICE/PARTS at the best value for your money. We want to help you make the right decision regarding upgrading your current system, trade-in value, adding automation, software upgrades
and always offering you full SERVICE and PARTS to keep your equipment functioning properly. We have a large inventory of parts and excellent low use machines ready to ship. Please call or email with any questions.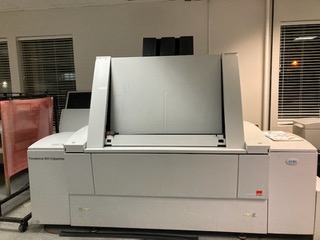 Kodak Trendsetter Auto-loader 40" Thermal CTP $23,500.00/Offers? Excellent…