Agfa Anapurna M2540 Flatbed Printer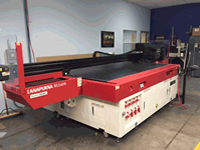 $22,000.
Agfa Anapurna M2540 Flatbed is a high-speed flat-bed, UV-curable inkjet printer for graphic screen printers, photo shops and sign shops. With a true flat-bed that delivers near photo quality, the M2540 is assigned to delver exceptional value for your money.
It's 6-color capability delivers a wide color gamut and the on-board white ink lets you print on dark or transparent substrates for any application–indoor or out. The printers's photo-quality capability delivers sharp text, even as small as 4 points.